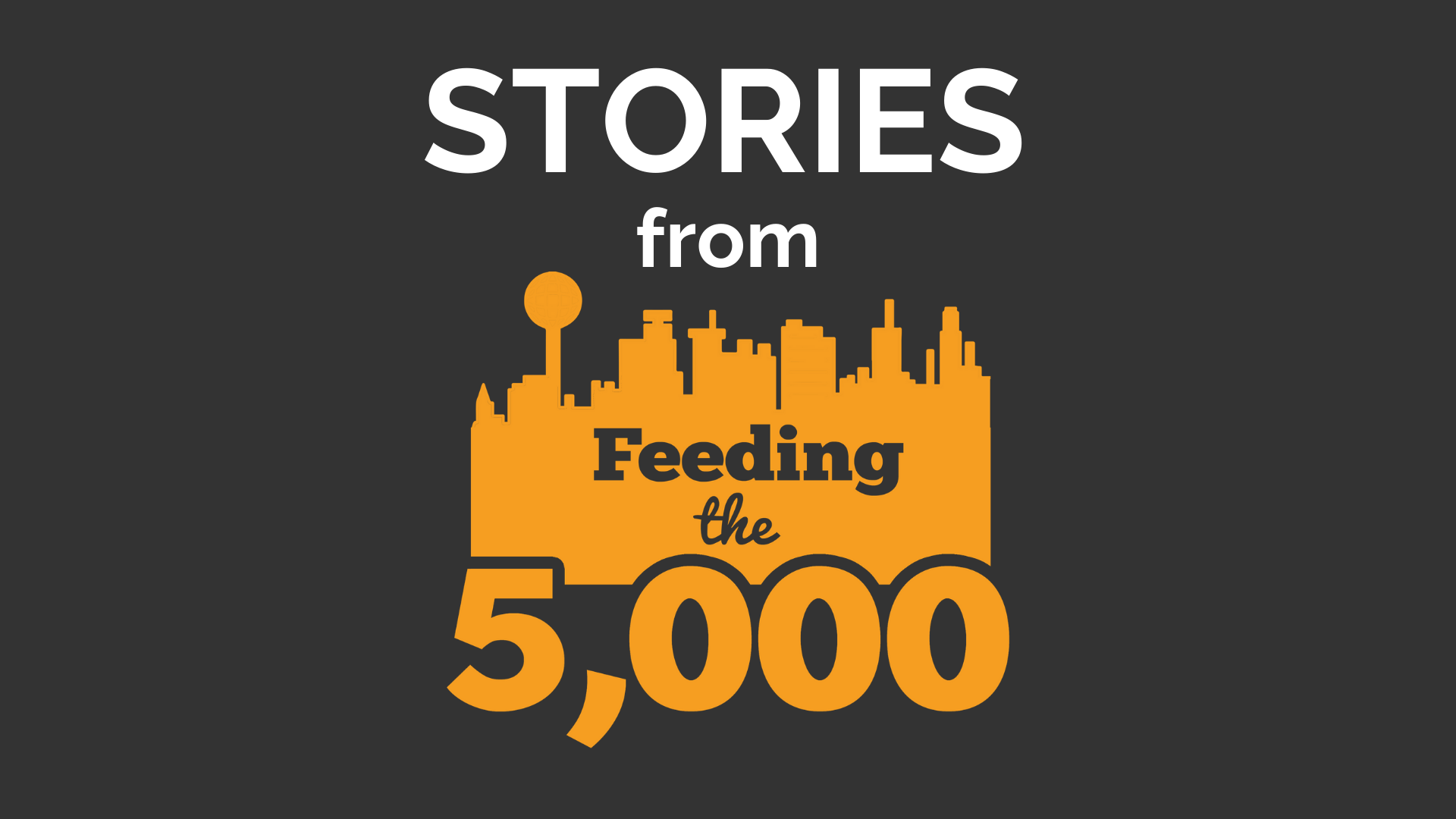 God moved in so many ways through our Feeding The 5,000 event on November 23, 2019
The people who received and served were equally blessed.
Here are just a few of the amazing "God stories" that were shared with us about that day.
STAY TUNED FOR INFO ON OUR 2020 FEEDING THE 5,000 EVENT
It's hard to put into words what I experienced at your church. I am disabled and have had 22 surgeries I am also a veteran. It was tough getting in that long line for food. I appreciated the diabetes in a box donut! "Lol" But seriously from the moment I entered in your church and received my ticket the Holy Spirit went to work! I want to genuinely thank each and every person and child that greeted me with overwhelming love that only comes from God! I thought I was going to get food and go but Nope God said hold on ….you know you have needed me and needed to feel my love! I was so truly blessed by the service and heard things I needed to hear! I am saved and the Holy Spirit was Very Strong in that building! When the pastor gave the invitation I found myself praying for those who needed to repent and receive the gift of life thru salvation.
I have never experienced such a blessing in my entire life as I did that day seeing so many people giving their hearts to God! What a Blessing!
I have been struggling with going to church but this morning "Thank God" I came to Grace Baptist! I found myself really Praising God! I want to thank those people that were standing in that line shaking hands and giving me hugs! I truly felt Gods Love Overflowing! "His Love Endures Forever"
This was an amazing experience! My 6 and 5 year old daughters was with me and they had a wonderful time. My 6 year old was recently (a week ago) diagnosed with celiac disease, my 5 year old is being tested in 2 weeks and I my self will be tested in Jan. My family is going through so much right now health and financial that besides the food the service is what we needed. I my self haven't been to church in a long time due to the pastor passing away and then the church falling apart and haven't found anywhere that felt like home after all that so stopped going. My girls are very interested in Jesus and god they ask questions weekly. They paid attention to everything that was going on and my 6 year old has excepted Jesus into her heart and now wants to get baptized. It was just all around am amazing experience and we need to find a church home and bring our daughters up the way they should be.
Prayers for joining the best church family, for my family to grow closer to God, health and financial issues are always greatly appreciated.
I do also want to say thank you so much to the Grace Family for the wonderful service, for making us feel welcome, and not belittled. I felt God and love there yesterday. Keep doing what your doing, it is wonderful! Also, to add I was one in the first 400 tickets that got a second box while I was there and I did bless a family member that is on a fixed income that needs a lot of help financial, home repairs and etc prayers with the 2nd box. When I took it to her she said thank you and told me that if I would have picked her up she would have went with me but I told her that I didn't want her out in that weather and told her all about the service and again Thank you so very very much!
I would like to thank you all for the spirit of God each one of you carry. I became unable to work in 2017 and my wife's SSI barely pays bills so any and all help is always greatly appreciated. I received 2 boxes of food from the ministry and was thankful. My soul was blessed in the service. I felt love and compassion everywhere I looked so just keep up the wonderful work you are doing for God.
My heart was about to explode on Saturday at Feeding of the 5,000! I arrived around 11:20 and all volunteer positions were already filled (even the 400 lanyards had long run out). I was instructed to greet those seated and make them feel welcome. The first person I spoke to asked if she could move seats (she was bothered by the perfume of someone nearby). I moved her over a section and sat with her the entire time. We had great conversation and got to know each other.
I thank God for placing me with the woman that I prayed with and being able to pray with her. She was so full of joy to be in church because she hadn't been to church in a while. She was the first one to run down the aisle at Pastor Bobby's invitation. Then as the crowds made decisions, I realized they may need help with more women counselors. I obeyed this calling to go forth and see if help was needed. Sure enough, I was needed and was immediately partnered with a young boy and his mother ready to follow Christ in believers baptism.
God orchestrated this entire day and I was honored to be a part of it. I stayed with this young boy at the baptistery while his mother watched from the front row. I am still in awe and overwhelmed with joy to be a part of this. To God be the glory!
While serving I met another member of our church, and learned we have a special needs ministry at Grace. I had no idea before today. After the baptisms, I was helping a family to their car. The mom had gotten baptized and was sharing how important this was to her son. I asked them where they went to church and they said it has been hard for them to find a church home because they think their son has autism.
I was able to share with them that Grace has a special place for any child and we have volunteers who work in the special needs ministry. I was even able to connect her with one of the volunteers to learn more because they were parked next to each other. They said they would be coming on Sunday for sure and were so excited that Grace had a special place for their son to go.
I counseled an aunt and her 24 yr old niece today. The aunt wanted to make sure I shared her God story of the day. She had no idea about the event until 3 or 4 hours but a friend of hers who knew she had been struggling financially, texted her about the free thanksgiving meal. She hesitated on coming but as a fellow believer, she knew she could use this as a tool for her niece. She got the niece to come with her and during Pastor Bobby's message, they both came forward with the Lord stirring in both their hearts.
The aunt shared her heart for her niece and her niece shared how she has always felt judgement by the church (so she doesn't go) but she has accepted Jesus before. With the environment today, she was comfortable enough to take that next step of baptism in a room full of strangers, which she said would be the last thing she'd ever do since she's a major introvert. All the glory to God but using a physical need to bring them in the doors to meet a spiritual need!
My husband and I were runners and one of our last runs was a young lady and her grandmother. We loaded her box into her car and her grandmother turned around and was so overjoyed and hugged and thanked us. She shared with me that her husband was a Baptist preacher but she had lost him this past June. Her granddaughter has been staying with her since then and has claimed to be an atheist. That young lady was one of the many that gave their life to Christ and was baptized! 🙂
Such an amazing day of witnessing the Lords hands at work!
I counseled a lady who accepted Christ as her Savior and was baptized. With tears in her eyes, she said, "From the moment I stepped inside this place, I felt Jesus was here. He is here in this place and He was here waiting for me today."
First off I would like to thank you for a wonderful day! I was really blessed being there and the food that was given to me and my sister's was a real blessing and when we got home we was invited to our niece's home for thanksgiving and accepted and so we took the food given to us and blessed six families with it! And from the bottom of my heart!
Thank you for blessing us so we can bless others, and I like to thank your church for making me feel welcomed it made me feel something stir my soul, God bless you all and have a blessed Thanksgiving.
This was the first time I had ever been a part of anything like this on such a large scale. The most powerful story that was shared with me came from a Vietnam vet who did 3 tours there. He was wounded 4 times during his service there. I have a heart for vets who have gone into service in places like Vietnam and Korea. I wish I could have spent more time with him. People like this man have stories that ought to be shared , lest we ever forget that freedom is not free. Many thanks for the opportunity to serve.
I was blessed during the event by the people seeking tickets who came through the entrance room. Most of them were awestruck with the number of people in that room but mostly with the wishes of "Happy Thanksgiving, Welcome to Grace, and good wishes, etc"
One lady stood out to me– she had beautiful white hair and was dressed nicely. She stopped in the middle of the room and kept saying "Thank you, thank you, thank you. " It was hard to ask her to move along but there were "hundreds" behind her waiting for their blessings! I can still see her in my mind's eye and hope to be that thankful for the blessings I received from serving that day!
Saturday was a day I needed!!! 20 years ago that was me! Standing in line for food baskets for the holidays. Sometimes more than one church because I knew I could "hoard" that food up & me & my boys could eat! I was a single mom, 2 kids, educated, working for minimum wage, no car, no phone, living in Western Heights public housing struggling in the welfare system. I've sat out on the sidewalk of churches just like them. It reminded me down to the pit of my gut that, though I still have a hard time sometimes & a "poor mouth" a lot that I need to shut my mouth & remember where I've come! The Lord has been so good to me.
My prayer now is for the Lord to show me a way to help those folks more than just during the holidays. They need it. ESPECIALLY the working single moms. ♡♡ best day ever. I was blessed as much as them.
This is one of the most moving experiences I have been a part of in a long time. I went into this event with the idea of being a blessing and wanting to help others but as God always does I was reminded that he has a plan even when we don't expect it and I was the one who was in deep need of his love and forgiveness.
I met some of the nicest people that didn't have much more to give than the genuine smiles on their faces and a kind word to offer. You just never know where he's working in our lives until you reach out of your comfort zone.
Thank you Grace for a wonderful event.
Prayed with a mom of 4 girls who knew the Lord but hadn't felt Him in a while and thought He had forgotten about her. She felt the Spirit today and we both prayed and cried together. I hope she comes back!
I had the honor to serve on the front lines today greeting folks as they entered the doors to receive. Most were wet, some were chilled, a few barefoot but all were grateful, thanking me for serving them. Almost all wanted a hug or a handshake and many veterans were saluted as tears filled their eyes. One humble woman said she felt like she was in Hollywood as she was welcomed to our church. Moms came carrying babes in arms, some seniors were on walkers or in wheelchairs but all waited and received. Never have I been prouder of our church family. Thank you for giving me the opportunity to serve and be blessed.
While carrying out the boxes to the parking lot, had a couple of individuals say they had asked another family to come with them who could not. They also said since they had received 2 boxes, they would be able to pass one on to that family. Also had one gentleman say that he had just lost his job and the box would allow him to have a good Thanksgiving.
I have been visiting Grace Church for 3 months and volunteered for the Wednesday night packing of boxes and Saturday work on Feeding The 5,000. I have greatly enjoyed my time at Grace but both Wednesday's work and Saturday's event was a wonderful blessing.
Thanks to all for allowing me to be a very small part of such a awesome, life changing and Godly event.