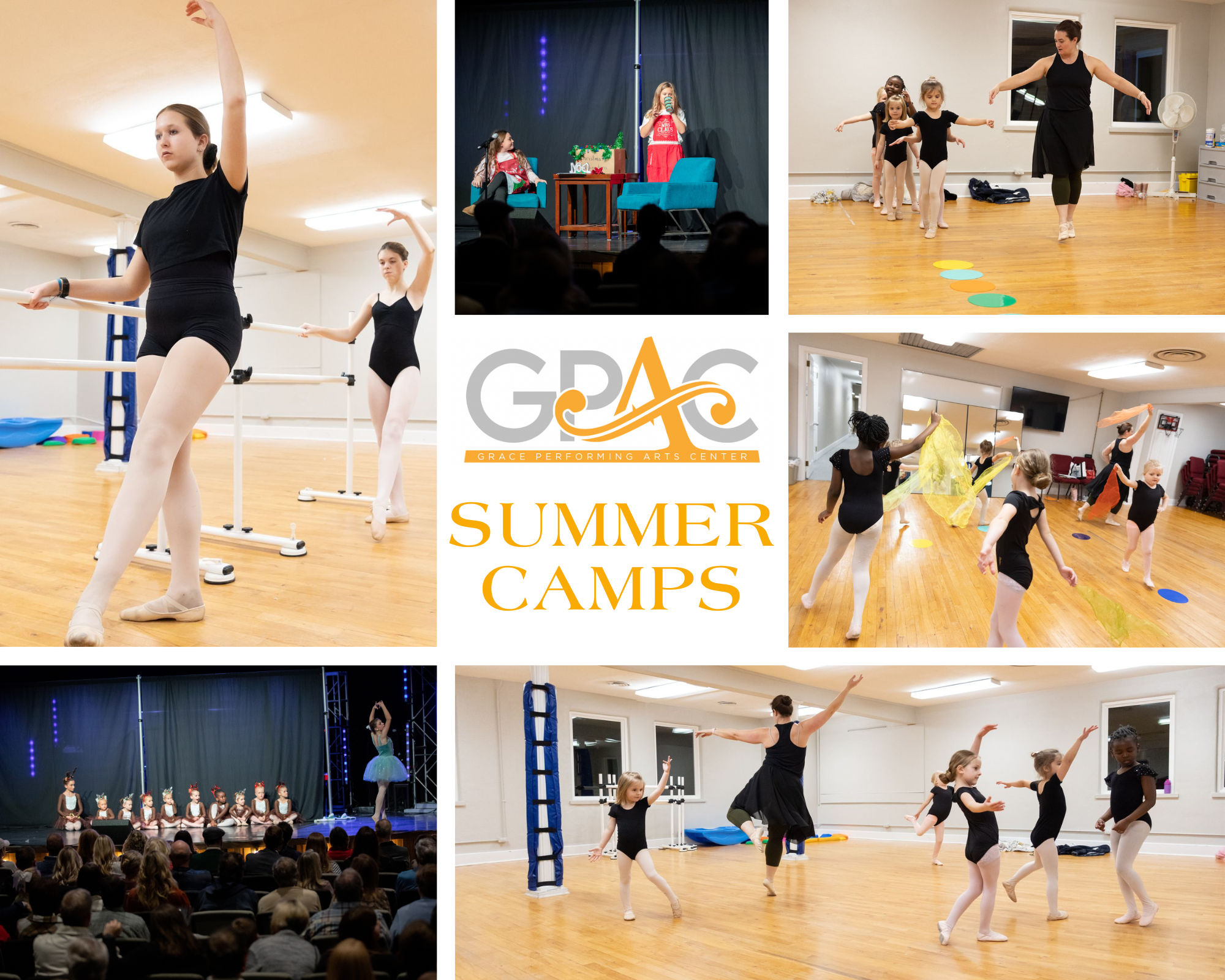 4 years old – 3

rd

Grade (One-week camps)
Beginning ballet camp is a great way to introduce your child to the world of dance at a young age. Students will learn basic steps and terminology in class, as well as participate in activities designed to stretch their young minds to start thinking with the mind of a ballerina. Students will learn about some famous ballerinas during camp, and will get the chance to learn choreography from very well known ballets. Also provided in this camp are healthy, allergy friendly snacks and a take home craft each day. Come plie and jeté all day with Miss Addie and Miss Amy this summer at Beginning Ballet Camp!
Beginning Jazz and Hip-Hop Camp
July 17-21 | 9am-12pm
This is a fun and interactive camp where your child will learn the basics of today's most popular styles of dance, jazz and hip hop. Students will get to participate in two dance sessions throughout the day, with interactive games, dynamic movements across the floor, and a group dance combining both styles set to fun pop music that the kids will recognize. Also provided in this camp are healthy, allergy friendly snacks and a take home craft each day. Come rock out with Mr. Jared and Miss Addie this summer!
Creative Movement and Worship Camp
"Let them praise his name with dancing" Psalm 149:3. What better way to praise and worship the Lord our God than through dancing, and that is exactly what creative movement and worship camp will focus on. Students will participate in activities that will teach them how to tell Biblical stories through emotions and movement, as well as learn the basics of modern and ballet styles of dance. Also provided in this camp are healthy, allergy friendly snacks and a take home craft each day. Come worship through dance with Miss Addie this summer!
Tiered Pricing: One Camp- $100, Two Camps- $190, Three Camps- $275
4

th

Grade – 8

th

Grade (Two-week camps)
Ballet Intensive
June 5-9 and 12-16 | 1-4pm
Ballet intensive is a two week camp designed to teach and expand a dancer's technique. Students will start each class with a traditional warm up at the ballet barre, and from there will move into exercises in the center and across the floor. Students will be exposed to a brief overview of ballet history, and will get to learn some very historical pieces of choreography each week.
Jazz and Hip-Hop Intensive
July 10-14 and 17-21 |
1-4pm
This camp is designed for young dancers looking to learn about the newest and latest trends in dance. Whether you started learning to dance on tik tok, or just like jamming out to fun music on the radio, jazz and hip hop camp is designed for all levels of dancers. The camp breakdown will consist of two dance sessions, one in each style, as well as a brief introduction to the history of jazz and hip hop.
Musical Theatre Intensive
July 24-28 and July 31-August 4 |
1-4pm
Musical Theater camp is designed for your young, aspiring thespian looking for further training in acting, singing, and dancing. Students in this camp will be exposed to several unique elements within each of these categories, and they will build a large repertoire of material during their time in camp. From acting activities, to reading and learning music, and dancing to Newsies, Annie, and beyond. Come sing, dance, and act with us this summer at GPAC!
Tiered Pricing: One Camp- $200, Two Camps- $380, Three Camps- $550